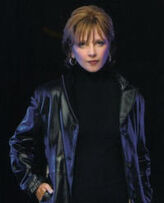 Eve Dallas was born to Richard Troy and Stella. She spent the first eight years of her life physically, mentally, and sexually abused by her father. At a hotel in Dallas, TX, Eve stopped the abuse by killing her father. She wandered out of the hotel for two miles before passing out. A police officer found her and took her to a hospital. With no records of her birth and her father's death unknown, she became a ward of the state. They named her Eve Dallas.
She spent the next ten years bouncing from foster home to foster home before leaving the system at 18. She immediately travelled to New York to become a police officer. She graduated from the police academy at the top of her class. The next few years were spent in uniform before Lt. Ryan Feeney took notice of her and brought her into the Homicide Division. They worked and closed cases together before Feeney was promoted to Captain and transfered to the Electronic Detectives Divison (EDD).
Eve's story initially starts in Naked In Death, reeling from a nightmare about subduing a suspect using lethal force, Eve is called in to investigate the murder of a high profile senator's daughter, a licensed companion . Throughout the course of the investigation, Eve comes across a connection between the victim and Roarke, a very wealthy businessman and possible suspect. Eve did her best to ignore her attraction to him but her efforts were futile. In the end Roarke is ruled out as a suspect and the real killer is identified. At the end of the investigation, a relationship has formed between Roark and Eve. A victim's cat, Galahad , becomes a hero and Eve's new pet.

Throughout the series, her memories return, mostly through a series of nightmares, revealing a history of incestual rape and patricide with her father, Richard Troy. It is revealed that he was raising her to prostitute her to child molesters. Her mother, Stella, was a prostitute, a drug addict and was occasionally beaten and raped by Troy but hated her daughter. Eve finds out more about Stella in the latest book New York to Dallas.
It was implied that since Eve had lost her memory, she had forgotten her name, as well, but it is eventually revealed in Reunion in Death that the reason Eve cannot remember her name is because her parents never gave her one. The fact that no one in Dallas could track down her ID indicates one of two things: that either Homeland Security interfered and deleted her data, or that her parents never had her registered in the first place. For all intents and purposes, Eve did not exist in any records before she was eight years old.
After her relationship and subsequent marriage to Roarke, Eve is a much happier and, to some extent, calmer person; she is more willing to work with and depend on other people. They celebrate their one-year anniversary in Reunion in Death, in July 2059. Eve's relationship with Roarke is central to the series and her character.
Eve's official residence is 222 Central Park West, New York, N.Y., with Roarke.
Ad blocker interference detected!
Wikia is a free-to-use site that makes money from advertising. We have a modified experience for viewers using ad blockers

Wikia is not accessible if you've made further modifications. Remove the custom ad blocker rule(s) and the page will load as expected.