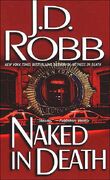 The "New York Landmark" covers depict a different New York Landmark or Historical building for each book of the series. Usually, that landmark was mentioned somewhere in the book on which it appeared.
The first appeared on the first edition of Judgment in Death and continued on until Imitation in Death, at which point the series switched to hardcover. The first six books of the series: Naked in Death, Glory in Death, Immortal in Death, Rapture in Death, Ceremony in Death, Vengeance in Death, and Holiday in Death were also re-issued using "New York Landmark" covers.
The New York Landmark Covers were discontinued starting with Survivor in Death, at which time the covers changed to what is now among many fans known as the "Neon Covers."
References:
↑ Interesting trivia about this photo is that it is in reverse. The World Trade Center should be on the right and the Empire State Building on the left. Also, this is one of two New York Landmark covers that pictured the World Trade Center before it was destroyed on by terrorist attacks on September 11,2001.
↑

Loyalty in Death was the second book to picture the World Trade Center on it's cover