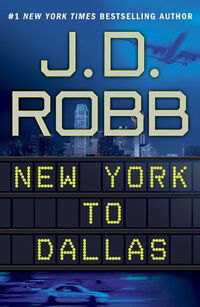 Plot Summary
Edit
The number-one New York Times–bestselling author J. D. Robb presents an intense and terrifying new case for New York homicide cop Eve Dallas, one that will take her all the way to the city that gave her her name — and plunge her into the nightmares of her childhood. When a monster named Isaac McQueen — taken down by Eve back in her uniform days — escapes from Rikers, he has two things in mind. One is to pick up where he left off, abducting young victims and leaving them scarred in both mind and body. The other is to get revenge on the woman who stopped him all those years ago. - Amazon.com
Please reference the New York to Dallas Map for locations or approximate locations of sites listed here.
Spoiler warning!
This article contains plot details about an upcoming episode.

Approximate Story Start Date: late-summer, 2060[1]
Memorable Quotes
Edit

Template:New York to DallasQuotes
Character List
Edit
Other Covers
Edit
Other Releases
Edit
Footnotes
Edit
↑ New York to Dallas Pg.  1.
Ad blocker interference detected!
Wikia is a free-to-use site that makes money from advertising. We have a modified experience for viewers using ad blockers

Wikia is not accessible if you've made further modifications. Remove the custom ad blocker rule(s) and the page will load as expected.