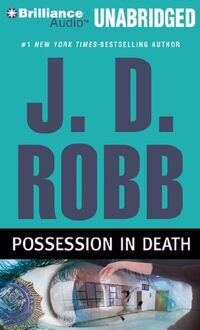 Plot Summary
Edit
"The devil killed my body. I cannot fight, I cannot find. I cannot free her. You must. You are the one. We speak to the dead."

Immediately after hearing these words, uttered to her by an old Romanian woman bleeding to death in the street, detective Eve Dallas begins to notice that her latest case has come with a number of interesting side-effects: visions of the deceased, instant familiarity with rooms she's never seen before, and fluency in Russian. Likewise, there appears to be a force inside of her, a spirit other than her own, that won't let her rest until she's found Beata, the old woman's great-granddaughter, whose disappearance two months prior remains a mystery. Desperate to be free of her new "gifts", Eve pursues the facts until she discovers a link between Beata's disappearance and the disappearance of eight other young women, all of whom attended the same dance classes, none of whom were ever heard from again. (from Amazon.com)
Please reference the Possession in Death Map for locations or approximate locations of sites listed here.
Spoiler warning!
This article contains plot details about an upcoming episode.

Approximate Story Start Date: Summer, 2060[1]
Memorable Quotes
Edit
Character List
Edit
Other Covers
Edit
Other Releases
Edit
Footnotes
Edit
↑ This story begins the day after the previous novel (Indulgence in Death) ends. Eve notes that she has been interviewing the man (name redacted for spoilers) who had "tried to kill her less than twenty-four hours before," chapter 1.
Ad blocker interference detected!
Wikia is a free-to-use site that makes money from advertising. We have a modified experience for viewers using ad blockers

Wikia is not accessible if you've made further modifications. Remove the custom ad blocker rule(s) and the page will load as expected.