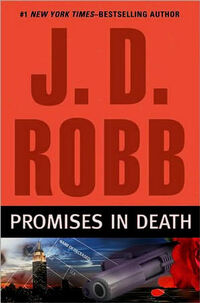 Plot Summary
Edit
At the start of bestseller Robb's megablast 28th novel to feature Lt. Eve Dallas (after Salvation in Death [and Ritual in Death]), Eve is dismayed to discover at a Manhattan crime scene that the victim is a friend, Det. Amaryllis Coltraine, who's been fatally zapped by her own stun gun. Dallas uncovers a connection to Coltraine's ex-boyfriend, Alex Ricker, whose father, a notorious criminal serving a life sentence at the Omega Penal Colony, blames Dallas and her husband, Roarke, for his imprisonment. Humorous touches, like the wild poolside wedding shower Dallas must abruptly leave after receiving word of a prime suspect found shot to death, provide relief from the intensity of the murder investigation. In a nice paranormal twist, Dallas uses dream visits with Coltraine to help expose a devious killer whose identity is a stunner. Robb (aka Nora Roberts) has a real gift for keeping this long-running thriller series fresh. (Feb.) Copyright © Reed Business Information, a division of Reed Elsevier Inc. All rights reserved. 

--Product description from Amazon.com
Please reference the Promises in Death Map for locations or approximate locations of sites listed here.
Spoiler warning!
This article contains plot details about an upcoming episode.

Approximate Story Start Date: May, 2060[1]
Day 0 - Tuesday
Edit
Detective Amaryllis Coltraine, TOD 23:40 (10).
Day 1 - Wednesday
Edit
Morning (1).
Ate lunch (51).
Home (64).
Day 2 - Thursday
Edit
Morning (92).
Home (137).
Day 3 - Friday
Edit
Morning (159).
Friday evening (201).
Home (210).
Day 4 - Saturday
Edit
Rod Sandy body found, TOD 1:15AM (256).
Approx. 2am (220).
Morning (222).
Approx. 4pm Charles Monroe bachelor party leaves for Las Vegas(250, time ref on 236).
Louise Dimatto bridal shower starts (250).
Day 5 - Sunday
Edit
Dawn (270).
Approx. 4pm (289).
Day 6 - Monday
Edit
Use an asterisk to mark each bullet point. Sub-points use two asterisks.
Memorable Quotes
Edit
Character List
Edit
We learn M.E. Morris's first name - Li; and about his older brother Jin and his drowning when they were just boys.

Eve hosts a wedding shower for Louise.
Other Covers
Edit
Other Releases
Edit
Footnotes
Edit
↑

Pg. 208. "...and enjoy sitting at a sidewalk table on a balmy May evening in the city...".
Ad blocker interference detected!
Wikia is a free-to-use site that makes money from advertising. We have a modified experience for viewers using ad blockers

Wikia is not accessible if you've made further modifications. Remove the custom ad blocker rule(s) and the page will load as expected.