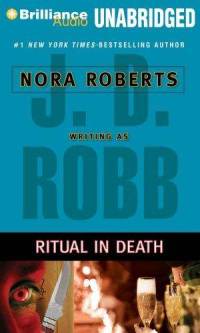 Plot Summary
Edit
When a high-society party is crashed by a naked, knife-wielding, blood-covered man who "thinks" he might have killed someone, Eve Dallas must track down the crime, and the criminals. Everything points to Satanic ritual, but Eve doesn't believe in devil worship... 
Please reference the Ritual in Death Map for locations or approximate locations of sites listed here.
Spoiler warning!
This article contains plot details about an upcoming episode.

Approximate Story Start Date: May, 2060[1]
Day 1 - Tuesday
Edit
Ava Marsterson, TOD 22:10 (19).
Eve and Roarke at a party.
Day 2 - Wednesday
Edit
"It's Wednesday." (22).
Shy of dawn (25).
Morning (34).
Not yet noon (46).
Went to sleep (82).
Day 3 - Thursday
Edit
Eve visits Jackson Pike in hospital (83).
Roarke and Eve head home after a long day (85).
Memorable Quotes
Edit
Character List
Edit
Other Covers
Edit
Other Releases
Edit
Footnotes
Edit
↑

Pg. 8. "He skimmed a finger down her arm, where a knife had slashed only days before."
Ad blocker interference detected!
Wikia is a free-to-use site that makes money from advertising. We have a modified experience for viewers using ad blockers

Wikia is not accessible if you've made further modifications. Remove the custom ad blocker rule(s) and the page will load as expected.